Hitler's Nazism is considered wrong on many counts (but there many today, who in private, admire it); the most evident fact is that Nazi Germany churned German society and brought to the fore some of the most nasty and mentally sick people the world has ever seen. Not only men, but it had many vicious women too. Below are described some of the very bad girls of Hitler's Third Reich.
IRMA IDA ILSE GRESE
Irma Grese was a simple lass who whose occupation was a dairy helper before joining the Nazi female youth organization. She was the youngest female SS Nazi guard to be executed for war crimes. She was despised for her cruel treatment towards prisoners. Concentration camp survivors gave her the nickname "Beautiful Beast". Armed with pistol and whip made of cellophane, she struts around in her heavy boots look for myriads of ways to torture and killprisoners. One witness account states that Grese unleashes her savage half starved dogs upon the prisoners. At times, she would beat or whipped an inmate repeatedly to her death. One of her tasks included selecting prisoners to be sent to gas chambers. She was a notorious sadist who took great pleasures inflicting pain on prisoners. Concentration camp survivors testified that Irma Grese enjoyed indulging acts of fornication with both prisoners and Nazi personnels alike.
Source
VIDEO: TRIAL OF IRMA ILSE GRESE
Irma Ilse Ida Grese, twenty-one year old concentration camp guard, after initial training at Ravensbrück, served at Auschwitz and later at Belsen where she was arrested by the British. Condemned to death at the Belsen Trial, held at No.30 Lindenstrasse, Lüneberg, she was hanged at Hameln Goal on Friday the 13th of December, 1945, by the British executioner, Albert Perrepoint. As she stood composed on the gallows, she spoke one last word as the white hood was pulled down over her head, 'Schnell' (Quick) she whispered. Once when home on a short leave from Auschwitz, she was beaten and turned out of the house by her father for proudly wearing her SS uniform. A cruel sadist, she was said to have had love affairs with Dr.Josef Mengele and the Belsen camp commandant, Josef Kramer.
The inmates dubbed Grese, the youngest guard at the camp and a striking blue-eyed blonde, the "Beautiful Beast." At her trial it was testified that she set dogs loose on bound prisoners, chose who would go to the gas chamber, beat prisoners with every tool she had including a whip, and ordered the skinning of three inmates. Found in her barracks hut were the skins that she had had made into lamp shades. She and also became something of a sexual fanatic, taking several brief lovers including the camp commandant and the infamous physician Josef Mengele. At her trial it was implied that she seemed to derive sexual pleasure from acts of sadism.
She plead not guilty and used the defense that she was just following orders. She testified that she regarded the inmates of the concentration camps as subhuman rubbish and saw nothing wrong in her wartime actions. After a fifty three day trial she was convicted of crimes committed at both Auschwitz and Belsen and sentenced to death by hanging.
ILSE KOCH
Called the "Bitch of Buchenwald' she was married to SS-Standartenführer Karl Koch, the camp commandant of Sachsenhausen and later of Buchenwald. Sentenced to life imprisonment the sentence was reduced to four years. On her release she was re-arrested in 1949 and tried by a German court, this time again sentenced to life. On September 1, 1967, when she was sixty one years old, she committed suicide by hanging herself in her cell in Aichach Prison in Bavaria. Her son, Uwe, born in prison in 1947, received her last letter, in it she wrote "I cannot do otherwise. Death is the only deliverance". Was she repenting?
One of the most cruel and most despised Female Nazi personnel, known as the infamous collector of Jewish inmates tattooed skin which was made into lampshade and handbag. Before joining the SS Nazi, she used to work as accounting clerk. Her rise to power was mainly attributed to her husband Karl Otto Koch who held a position of a commandant. As a wife of a commandant,Ilse Koch was bestowed with privileges and power to torture and abuse the inmates as she desires. Her husband Karl was credited for awakening her bloodthirsty side. Bored with the usual sadistic treatment towards prisoners, Ilse began to seek other thrills in form of sexual abuse. She had forced the inmates to rape each other as well as hit the prisoner's private parts. Perhaps one of her notable crimes was that she scouts around the camp looking forprisoners with interesting tattoos. She then had inmates of interest killed in order for them to be skinned and be made into lampshades and handbag as part of her grisly collection. Allegedly, Ilse Koch proudly showed off her handbag made of human skin like a trophy.
Source
VIDEO: ILSE KOCH: PART 1
PART 2
PART 3
***************************************
GREAT VIDEO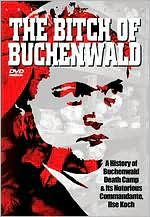 This documentary chronicles the grisly history of the Buchenwald concentration camp and its notorious female guard, Ilse Koch. Wife of the camp commandant, Karl Koch, Ilse earned the nickname "The Bitch of Buchenwald" for her own unique brand of sadism and torture -- which included fashioning lampshades out of human skin -- and served as the inspiration for the Nazi exploitation film Ilsa, She Wolf Of The SS
*************************
DOROTHEA BINZ
Dorothea Binz has trained female guards who eventually becomes cruel and ruthless. There was an incident where she chopped a Polish prisoner with an axe. During her time at the Ravensbrück, she continuously slapped, beaten and physically abused thefemale inmate. In fact, Binz and her SS officer lover Brauning enjoyed watching females inmated being beaten and flogged.
At Ravensbrück, the young Binz is said to have beaten, slapped, kicked, shot, whipped, stomped and abused women continuously. Witnesses testified that when she appeared at the Appellplatz, "silence fell." She reportedly carried a whip in hand, along with a leashed German Shepherd and at a moment's notice would kick a woman to death or select her to be killed.
Binz fled Ravensbrück during the death march, was captured on May 3, 1945, by the British in Hamburg and incarcerated in the Recklinghausen camp (formerly a Buchenwald subcamp).
Binz was tried with other SS personnel by a British court at the Ravensbrück Trial and was hanged at Hameln on May 2, 1947 for war crimes.
ELISABETH VOLKENRATH
Known as the overseer of hanging prisoners, she also took part in selecting prisoners for executions and sadistic cruelty. Not much is known about the life of Elisabeth Volkenrath aside from being a cruel SS Nazi supervisor in charge of selectingprisoners to the gas chambers.
Volkenrath trained under the supervisor Dorothea Binz at Ravensbrück concentration camp, and in 1943 went to Auschwitz Birkenau as an Aufseherin. There she took part in selections and abuse of prisoners. In November 1944, she was promoted to Oberaufseherin and oversaw three hangings. She later went to Bergen-Belsen as supervising wardress.
In April 1945, she was arrested by the British Army and sent to prison. She eventually stood trial with Irma Grese and many other Nazi guards at the Belsen Trial. She was sentenced to death through hanging and executed on December 13, 1945, at Hameln Prison by the hangman Albert Pierrepoint.
EMMA ZIMMER
Despite the fact that most SS Nazi female guards were young and in fit of health, Emma Zimmer was an exception. She was already 54 when stayed as female overseer at Ravensbrück. When it comes to cruelty towards prisoners, she's certainly not lagging behind her equally cruel peers. One of her duties include selecting prisoners for the gas chambers.
It was not known what her were the grounds for her dismissal as January 1945 from her service as female nazi guard. It was either due to her old age or because of her alcoholism.
Source
BRUTAL GERMAN NAZI WOMEN (From
New York Times
)
Emma Zimmer was born as Emma Anne Mezel in Schlüchtern. On June 1, 1943, already over 50 years old, she was granted permission to stay on staff as a female overseer at Ravensbrück, despite her age. She was the first chief woman officer at Ravensbrück from 1939-1941. She took an active part in the selection of internees to be gassed during 1941 at the Bernberg Euthanasia Center near Berlin. Zimmer served as a guard at Ravensbrück and was known in the camp as a brutal and sadistic guard.
Emma Zimmer stood trial at the seventh Ravensbrück Trial and was sentenced to death for her war crimes. She was hanged on September 20, 1948. She was 60 years old.
Amid the horrors of the Holocaust, the atrocities perpetrated by a few brutal women have always stood out, like aberrations of nature.
There were notorious camp guards like Ilse Koch and Irma Grese. And lesser known killers like Erna Petri, the wife of an SS officer and a mother who was convicted of shooting to death six Jewish children in Nazi-occupied Poland; or Johanna Altvater Zelle, a German secretary accused of child murder in the Volodymyr-Volynskyy ghetto in Nazi-occupied Ukraine.
The Nazi killing machine was undoubtedly a male-dominated affair. But according to new research, the participation of German women in the genocide, as perpetrators, accomplices or passive witnesses, was far greater than previously thought.
The researcher, Wendy Lower, an American historian now living in Munich, has drawn attention to the number of seemingly ordinary German women who willingly went out to the Nazi-occupied eastern territories as part of the war effort, to areas where genocide was openly occurring.
"Thousands would be a conservative estimate," Ms. Lower said in an interview in Jerusalem last week.
While most did not bloody their own hands, the acts of those who did seemed all the more perverse because they operated outside the concentration camp system, on their own initiative.
Ms. Lower's findings shed new light on the Holocaust from a gender perspective, according to experts, and have further underlined the importance of the role of the lower echelons in the Nazi killing apparatus.
"In the dominant literature on perpetrators, you won't find women mentioned," said Dan Michman, the chief historian at Yad Vashem, the Holocaust Martyrs' and Heroes' Remembrance Authority in Jerusalem.
Ms. Lower, 45, presented her work for the first time at this summer's workshop at Yad Vashem's International Institute for Holocaust Research. She has been trying to decipher what motivated these women to commit such crimes.
"They challenge so deeply our notion" of what constitutes normal female behavior, she said. But the Nazi system, she added, "turned everything on its head."
Ms. Lower said she worked for many years at the Holocaust Memorial Museum in Washington and is now teaching and researching at Ludwig-Maximilians-Universitat in Munich.
She began traveling to Ukraine in the early 1990s, as the Soviet archives opened up. She started in Zhytomyr, about 75 miles west of Kiev, where the SS leader Heinrich Himmler had his Ukrainian headquarters, and where she found original German files, some burned at the edges, in the local archive. She noticed the frequency with which women were mentioned at the scenes of genocide. Women also kept cropping up as witnesses in West and East German investigations after the war.
In an anomalous twist on Christopher R. Browning's groundbreaking 1992 book, "Ordinary Men," it appears that thousands of German women went to the eastern territories to help Germanize them, and to provide services to the local ethnic German populations there.
They included nurses, teachers and welfare workers. Women ran the storehouses of belongings taken from Jews. Local Germans were recruited to work as interpreters. Then there were the wives of regional officials, and their secretaries, some from their staffs back home.
For women from working-class families or farms in Germany, the occupied zones offered an attractive opportunity to advance themselves, Ms. Lower said.
There were up to 5,000 female guards in the concentration camps, making up about 10 percent of the personnel. Ms. Grese was hanged at the age of 21 for war crimes committed in Auschwitz and Bergen-Belsen; Ms. Koch was convicted of participating in murders at Buchenwald.
Mr. Browning's book chronicled the role of the German Reserve Police Battalion 101, which helped provide the manpower for the elimination of most Polish Jewry within a year. The book mentions one woman, the young, pregnant bride of one of the captains of the police battalion. She had gone to Poland for a kind of honeymoon and went along with her husband to observe the clearing of a ghetto.
Only 1 or 2 percent of the perpetrators were women, according to Ms. Lower. But in many cases where genocide was taking place, German women were very close by. Several witnesses have described festive banquets near mass shooting sites in the Ukrainian forests, with German women providing refreshments for the shooting squads whose work often went on for days.
Ms. Petri was married to an SS officer who ran an agricultural estate, complete with a colonial-style manor house and slave laborers, in Galicia, in occupied Poland. She later confessed to having murdered six Jewish children, aged 6 to 12. She came across them while out riding in her carriage. She was the mother of two young children, and was 25 at the time. Near naked, the Jewish children had apparently escaped from a railroad car bound for the Sobibor camp. She took them home, fed them, then led them into the woods and shot them one by one.
She told her interrogators that she had done so, in part, because she wanted to prove herself to the men.
She was tried in East Germany and served a life sentence.
Ms. Altvater Zelle went to Ukraine as a 22-year-old single woman and became the secretary of a district commissar, Wilhelm Westerheide. Survivors remembered her as the notorious Fräulein Hanna, and accused her, among other things, of smashing a toddler's head against a ghetto wall and of throwing children to their deaths from the window of a makeshift hospital.
Back in Germany, Ms. Altvater Zelle married, became a welfare case worker for youth in her hometown, Minden, and adopted a son.
In Commissar Westerheide's region, about 20,000 Jews were wiped out. He and his loyal secretary were tried twice in West Germany, in the late 1970s and early 1980s. They were acquitted both times because of contradictions that arose in the testimonies of witnesses gathered over 20 years, the former chief prosecutor in the case told Ms. Lower.
One survivor, Moses Messer, said he saw the woman he knew as Fräulein Hanna smashing the toddler to death against the wall. He told lawyers in Haifa, Israel, in the early 1960s: "Such sadism from a woman I have never seen. I will never forget this scene."
Bad Girls Of Nazi Germany: JENNY WANDA BARKMANN
----------------------------------------------------
HISTORY BOOKS
(CLICK ON IMAGE TO BUY BOOK)
The Beautiful Beast is an interesting and comprehensive narrative of the life of Irma Grese, one of the most notorious female guards in the Nazi concentration camps. Dan Brown has done an excellent job of researching her life, activities, and the consequences in this book. As one who researches women in the Holocaust, I strongly recommend this book to all who are interested in this era.
-------------------------------------------
WW2 MOVIES
This notorious Canadian sexploitation cult classic is one of the most sick and sadistic features ever released to a general audience, and the only film that producer David F. Friedman, the king of sleaze himself, was so ashamed of that he removed his name from it.
Statuesque, buxom blonde Dyanne Thorne is Ilsa, the ruthless commandant of a Nazi medical camp who subjects her patients (mostly naked women) through the most painful and brutal tortures she can think of to prove the superiority of the female sex to Nazi high command. At night she goes through the male prisoners like boy toys to be discarded and castrated the next day ("Once a prisoner has slept with me, he'll never sleep with another woman!"), until she meets a man she can't conquer in bed. It proves to be her downfall. Vamping it up with a corny German growl, Thorne leers with gargoylish delight at her latest diabolical tortures: grotesque, gangrenous infections, exploding sex toys, boiling alive, and a dinner centerpiece involving a naked girl, a noose, and a melting block of ice that leaves her dangling by meal's end.
Directed with an artless bluntness and a cold cynicism, it's a brutal, nasty film, utterly tasteless yet perversely fascinating. It was reportedly shot in a week on sets left over from the sitcom Hogan's Heroes, and proved so successful that it spawned two official and one unofficial sequels.